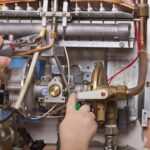 Gemiddeld gaat een CV ketel zo'n tien à vijftien jaar mee, maar het kan zijn dat een CV ketel zo af e toe last heeft van een storing. Dit is erg vervelend en kan nare gevolgen hebben voor de bewoners van het huis en/of de gebruikers van de CV ketel. Het risico op een storing kan sterk verkleind worden door de CV ketel bij u thuis of in uw bedrijfspand regelmatig na te laten kijken en te laten onderhouden. CV ketels die periodiek onderhouden worden hebben een langere levensduur dan CV ketels die niet onderhouden worden.
Onderhoud aan de CV ketel
Voor onderhoud aan uw CV ketel kunt u terecht bij een loodgieter. Deze vakman werkt dagelijks met CV ketels en weet er alles van. Wanneer er iets niet juist werkt, iets kapot is of wanneer er een onderdeel aan vervanging toe is heeft deze specialist dat vrijwel meteen door. Er wordt dan, indien nodig, een reparatie uitgevoerd of een onderdeel wordt vervangen. Dankzij het regelmatig laten controleren en onderhouden van de CV ketel in uw woning of bedrijfspand heeft u een stuk minder kans op vervelende storingen en de nare gevolgen daarvan.